KITO hoists are designed to be simple but there is always an opportunity to learn. Check out our growing video library to see how you can get the most out of your current hoist or discover a new lifting solution that may improve your business.
The HCB High Speed Hand Chain Hoist
Save time and increase efficiency lifting heavy loads with KITO's High-Sped Hand Chain Hoist. Using the world's first built-in high/low clutch technology, this heavy duty hoist operates to standard specifications when loaded, but runs up to seven times faster when unloaded.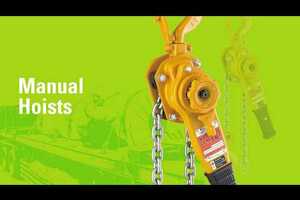 KITO Global
Since its founding in 1932, KITO has been a leading manufacturer of materials-handling equipment, which is essential to the task of lifting, moving and holding loads, supplying safe, durable products. This video will be a brief introduction about the company and how its products and service help to build a more convenient and comfortable society.
Like what you see but want to know more?
Contact a KITO Territory Representative to arrange a site visit for training or a product demonstration.