SHB Low Headroom Hand Chain Hoist
Lift right when space is tight.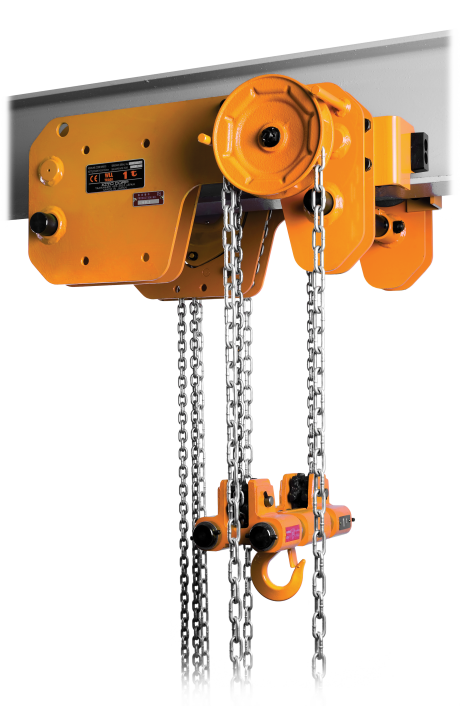 SHB Low Headroom Hand Chain Hoist
Lift right when space is tight.
Sometimes there's just not enough room above a load to use a standard hoist. That's where the low profile SHB hoist and trolley combo work where others can't. Built around the quality CB hoist with headrooms as low as 4.5 inches, the SHB is ideal for demanding industrial lifting applications where space is extra tight.
Available with extension shafts for up to 12" flange widths.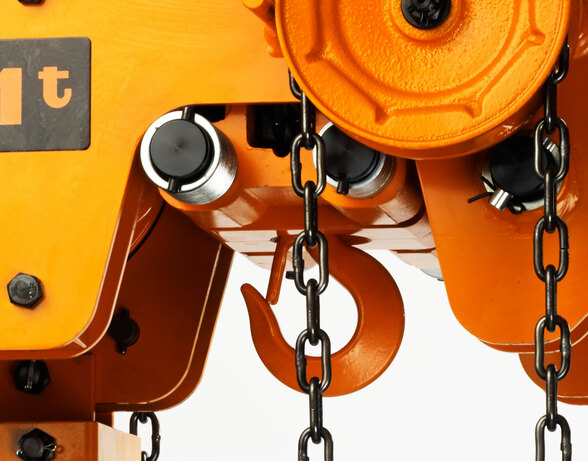 Ultra Low-Profile Lifting & Maximum Hook Travel
With headroom as low as 4.5 inches, the SHB lets you use every inch of available space. The short headroom feature is specifically engineered to provide maximum hook travel that meets the demands of your constricted lifting application.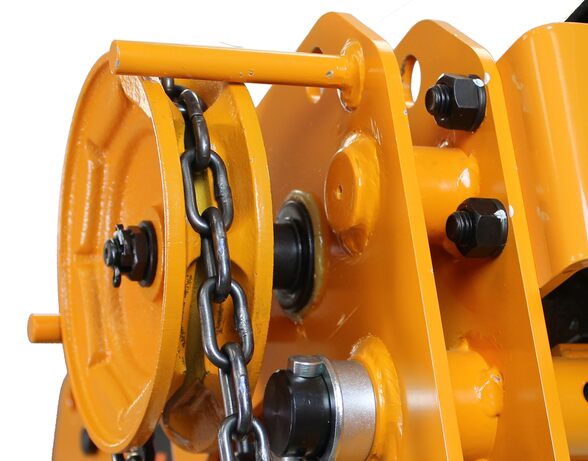 Permanently Attached Hand Geared Trolley
Engineered to function as a single unit, the SHB integrates the proven performance and durability of Kito's standard CB Hoist with a permanently attached, industrial grade, hand-geared trolley.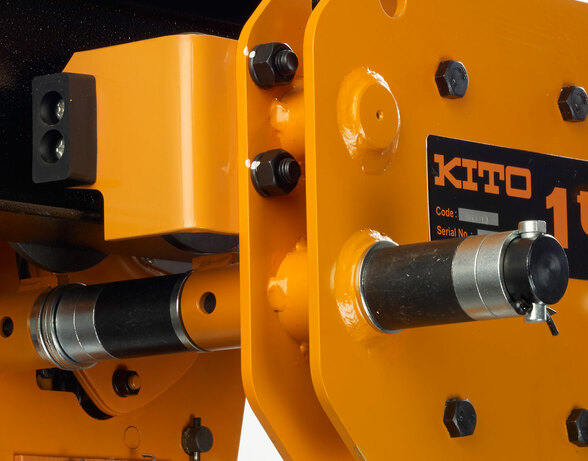 Heavy-Duty Wheels & Steel Side Plates
Heavy-duty lifting applications need heavy-duty equipment that can stand up to your demands. The SHB's cast trolley wheels and structural steel side plates take the weight and provide rigid support and reliability at the same time.
Maintenance-Free Sealed Trolley Bearings
Focus on the task at hand, not the maintenance of your equipment. The maintenance-free trolley bearings on the SHB are sealed and life-long-lubricated providing you with years of smooth, reliable, quiet operation.
Adjustable For Tapered or Flat Flanged Beams
Trolley wheels on the SHB are designed to work with both tapered and flat-flanged beams.
CAPACITY
STANDARDS
ASME B30.16 Safety Standard
ASME HST-2 Performance Standard
At rated capacity, load-bearing parts are only stressed to 25% of their limit
OPTIONS
Chain bag to keep chain clean and out of the way
Corrosion resistant chain for tough environments
Custom lift lengths to suit your requirements
Extension shaft for up to 12" flange
LOW HEADROOM FEATURES
Headroom as low as 4.5"
Built-in trolley with cast wheels, sealed bearings, and steel side plates for heavy-duty applications
BODY
Durable all-steel construction
Rugged gear case and hand wheel cover
Compact design for low headroom
HAND CHAIN
LOAD CHAIN
Heat-treated, low-weight manganese alloy steel
Grade 100
High-impact steel chain guide
Standard Lift: 20 feet
HOOK
Forged, heat-treated, opens gradually when overloaded
Self-closing heavy-duty hook latch
OPERATION
Hand chain operated
Reduced operator fatigue through efficient drive train
GEARS
Double reduction gearing requiring very low effort to operate
Induction heat-treated and case-hardened
Enclosed to protect from dust and water
BEARINGS
Maintenance-free sealed bearings increase reliability and reduce pull force required to lift loads
BRAKE
Double pawl springs for extremely reliable operation and instant brake activation
Enclosed to protect from dust, rain, and dirt
OPERATING CONDITIONS
Recommended for -20˚ to +60 ˚C
Choose product configuration below to view info:
| Capacity (tonne) | Model | a | b | d | e | f | g | h | i | j | k | l | m | n | o | p | q | r | s | t |
| --- | --- | --- | --- | --- | --- | --- | --- | --- | --- | --- | --- | --- | --- | --- | --- | --- | --- | --- | --- | --- |
| 1 | SHB010 | 237 | 377 | 5791 | 201 | 180 | 5791 | 29 | 106 | 71 | 25 | 114 | 61 | 150 | 290 | 368 | 46 | B-41 | 153 | 244 |
| 2 | SHB020 | 281 | 436 | 5791 | 227 | 194 | 5791 | 36 | 127 | 85 | 31 | 168 | 68 | 180 | 335 | 418 | 53 | B-51 | 153 | 290 |
| 3 | SHB030 | 340 | 510 | 5791 | 240 | 207 | 5791 | 42.5 | 148 | 100 | 35 | 177 | 88 | 220 | 390 | 438 | 61 | B-56 | 183 | 325 |
| 5 | SHB050 | 397 | 587 | 5791 | 265 | 223 | 5791 | 46.5 | 169 | 118 | 39 | 224 | 97 | 265 | 455 | 514 | 71 | B-74 | 183 | 391 |
| 7.5 | SHB075 | 445 | 638 | 5791 | 282 | 216 | 5791 | 62 | 185 | 155 | 33 | 268 | 91 | 300 | 493 | 498 | 84 | B-89 | 214 | 419 |
| 10 | SHB100 | 445 | 638 | 5791 | 282 | 216 | 5791 | 62 | 185 | 155 | 33 | 268 | 91 | 300 | 493 | 498 | 84 | B-89 | 214 | 419 |
* All measurements in millimeters (mm)
| Capacity (tonne) | Model | Standard Lift (ft) | Headroom (in) | Hand Pull to Lift Full Load (kg) | Standard Flange (in) | Load Chain Code | Load Chain Falls | Ship Weight (lbs) | Weight per Additional 5ft of Lift (lbs) |
| --- | --- | --- | --- | --- | --- | --- | --- | --- | --- |
| 1 | SHB010 | 20 | 4.5 | 29 | 2.3-6.4" | KCF050 | 2 | 176 | 10 |
| 2 | SHB020 | 20 | 5.7 | 26 | 3.2-8.0" | KCF071 | 2 | 281 | 14 |
| 3 | SHB030 | 20 | 6.5 | 34 | 3.2-8.0" | KCB3080 | 2 | 395 | 16 |
| 5 | SHB050 | 20 | 7.7 | 41 | 3.9-8.0" | KCB3090 | 2 | 665 | 19 |
| 7.5 | SHB075 | 20 | 10 | 44 | 5.5-8.6" | KCB3090 | 4 | 868 | 31 |
| 10 | SHB100 | 20 | 10 | 44 | 5.5-8.6" | KCB3090 | 4 | 868 | 31 |