ED High Speed Electric Chain Hoist
Little hoist. Lots of power.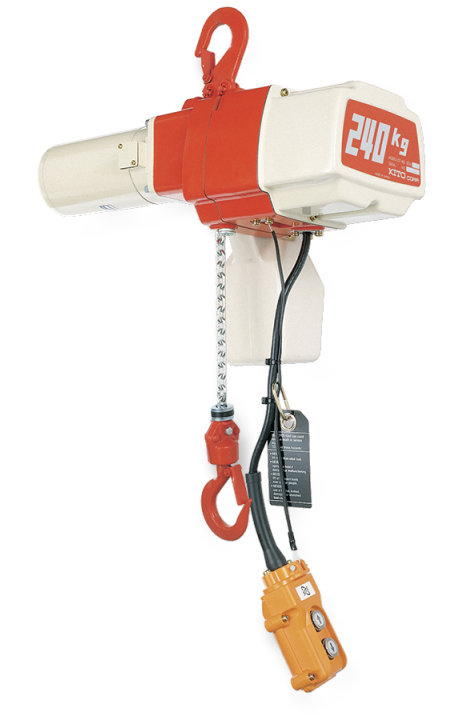 ED High Speed Electric Chain Hoist
Little hoist. Lots of power.
Plug the ED into any standard 115 V wall socket and you're ready to lift. With speeds up to 44 fpm, you'll be amazed that such a small hoist moves so quickly. Designed for productivity and portability, the ED also offers a variable-speed option to adjust the speed to best suit your application.
High-Speed Motor
The ED electric hoist is a quick-lifting, single-phase speed demon available in a variety of configurations. The compact DC motor reduces weight, generates less heat, and maintains duty cycles to keep production moving.
Standard Double-Braking System
Get double the protection with a Weston-style mechanical load brake plus a regenerative brake.
Quiet, Smooth Operation
With bearings immersed in an oil bath, you can hear how smooth the ED electric hoist operates. That reduced friction results in less noise and vibration, which extends the hoist's service life.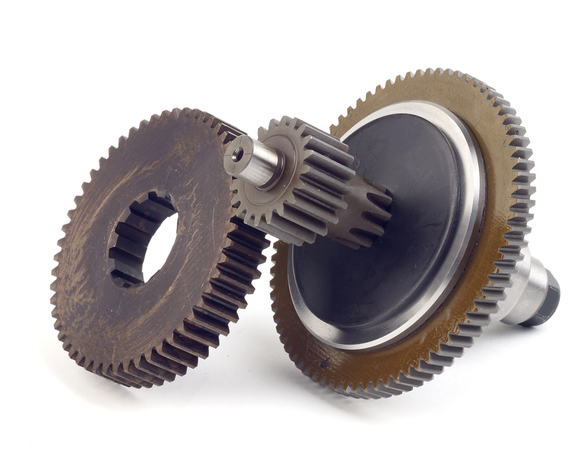 KITO's own heat-treating process increases the overall hardness and strength of internal parts for increased resistance to wear. Our three-step process of bright heat treatment, case hardening, and induction provides the ED with outstanding performance.
Integrated Friction Clutch
Integrated with the load brake, the high-performance friction clutch on the ED is engineered to protect against overwinding or overtravel, which can damage the hoist and cause downtime.
CAPACITY
100 to 480 kilograms
Single and dual speed
STANDARDS
CSA approved
ASME B30.16 Safety Standard
ASME HST-1 Performance Standard
IP44 environmental protection
Load-bearing parts are only stressed to 20% of their limit at rated capacity
OPTIONS
Dual Speed Units Available
Plastic, canvas, or steel chain containers
Lift Lengths can be customized to suit requirements
Hook or manual trolley mount
TMH Mini Trolley designed to work exclusively with the ED hoist
BODY
Die cast aluminum frame
Low headroom profile
Weather tight construction resists dust and water
GEARS
Precision induction hardened, spur gears immersed in oil bath ensure quiet, smooth operation and long life
LOAD CHAIN
Abrasion and corrosion resistant nickel-plated load chain is made from heat-treated alloy steel
Grade 80
CHAIN GUIDE
Long-lasting, heavy-duty cast iron construction
HOOKS
Forged carbon steel opens gradually without fracturing under excessive loads
Bottom hook swivels 360 degrees
Self-closing top and bottom hooks with heavy-duty hook latch
BEARINGS
Heat-treated, deep-groove ball and needle bearings are immersed in an oil bath
CONTROLS
Impact-resistant plastic push button with molded strain relief
Adjustable low speed on dual-speed pendant models
Unique to Cylinder Control: In-line cylinder control permits one-handed operation
Adjustable High/Low Speeds with easy touch-finger turn nobs for quick selection from high to low speed
Low voltage, IP65 dust and watertight pendant control
BRAKE
Weston-style mechanical load brake and regenerative brake
MOTOR
Voltage: 120-1-60 volt
Single phase
Horse Power: .4 to .8 hp
Duty Cycle: Varies by capacity
Compact DC motor with rectifier for AC current
Variable high speeds up to 44 ft/min
OVERTRAVEL PROTECTION
An integrated high-performance friction clutch prevents damage from overloads and overtravel
Upper limit switch prevents overtravel
Choose product configuration below to view info:
| Capacity | Model | C | a | d | e | f | h | i | g | j | k | m | n |
| --- | --- | --- | --- | --- | --- | --- | --- | --- | --- | --- | --- | --- | --- |
| 100 kg | EDL10S | 300 | 371 | 187 | 184 | 200 | 120 | 80 | 27 | 25 | 340 | 92 | 73 |
| 240 kg | EDL24S | 325 | 428 | 205 | 223 | 219 | 135 | 84 | 27 | 25 | 362 | 92 | 73 |
| 480 kg | EDL48S | 520 | 428 | 205 | 223 | 219 | 155 | 74 | 24 | 24 | 454 | 149 | ---- |
| 100 kg | EDL10ST | 300 | 371 | 187 | 184 | 200 | 120 | 80 | 27 | 25 | 340 | 92 | 73 |
| 240 kg | EDL24ST | 325 | 428 | 205 | 223 | 219 | 135 | 84 | 27 | 25 | 362 | 92 | 73 |
| 480 kg | EDL48ST | 520 | 428 | 205 | 223 | 219 | 155 | 74 | 24 | 24 | 454 | 149 | ---- |
* All measurements in millimeters (mm)
Capacity
Model
Standard Lift (ft)
Max Lift (ft)
Lift Speed (ft/min)
Hoist Motor H.P.
Headroom (in)
Load Chain Falls
Rated Current (amps)
Ship Weight (lbs)
Weight per Additional 5ft of Lift (lbs)
Hook Mount
Plain Trolley
Geared Trolley
115V
100
EDL10S
10
100
43
0.4
12
10.5
----
1
5
25
2
240
EDL24S
10
100
44
0.8
13
11
----
1
10
36
2
480
EDL48S
10
50
22
0.8
20.5
20.5
----
2
10
49
4
100 kg
EDL10ST
10
100
43/10
0.4
12
10.5
----
1
5
27
2
240 kg
EDL24ST
10
65
44/10
0.8
13
11
----
1
10
37
2
480 kg
EDL48ST
10
50
22/6.5
0.8
20.5
20.5
----
2
10
49
4