TSP Push/Pull Manual Trolley
Machines in motion.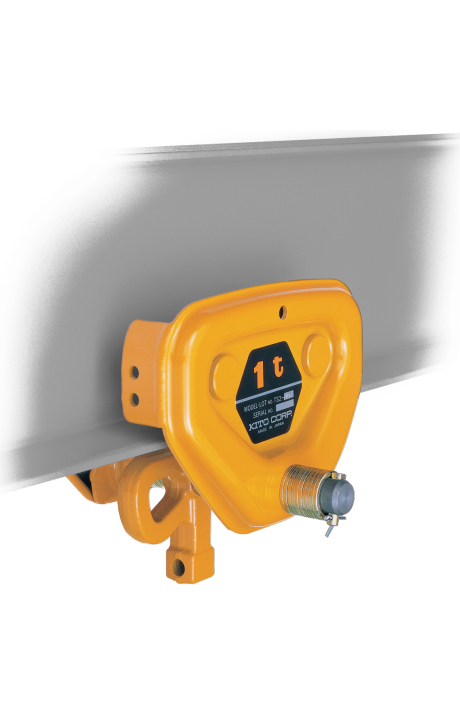 TSP Push/Pull Manual Trolley
Machines in motion.
The reliability, operational smoothness, and safety of your hoist depends on the trolley. Heat-treated steel wheels, sealed bearings, and a low-turn radius are just some of the benefits of a plain trolley from Kito.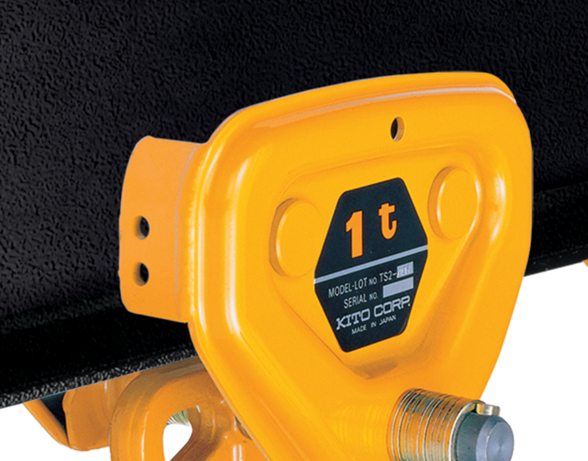 Push or Pull - No Electricity Required
Perfect for traversing a load when electric power is not necessary or available, Kito's TSP plain push/pull trolleys can be paired with almost any Kito hoist.
Stamped steel side plates
Engineered to be lighter and easier to install, the ½ to 3 tonne model TSP trolleys are specifically designed to be robust and durable, without unnecessary weight and bulkiness.
Low Minimum Turn Radius
For curved beams where tight turns are required, Kito's TSP trolleys allow a low minimum turn radius.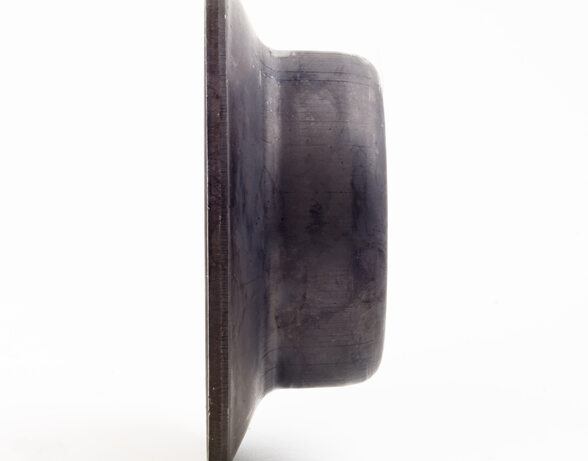 Fits Tapered or Flat-Flanged Beams
TSP Trolley wheels are adjustable to work with both tapered and flat-flanged beams, allowing you to use existing equipment without customization. Lifetime-lubricated ball bearings also increase reliability and provide you with smooth operation while traversing a load.
CAPACITY
STANDARDS
Operating Conditions: -20 to +60° Celsius
Safety lugs supplied standard
OPTIONS
Rubber bumpers
Variety of suspenders
BODY
A strong, lightweight, and compact design
WHEELS
Contoured wheels that fit both tapered and flat-flange beams
COMPATIBILITY
Adjustable flange width to fit a wide variety of beam flange widths
BEARINGS
Maintenance-free low friction design
Lubricated for life
OPERATION
Push trolley: Suited to applications involving greater traversing distances
Choose product configuration below to view info:
| Capacity (tonne) | Model | a | b | c | d | e | f | j | h | i | g | k - headroom (Inches) |
| --- | --- | --- | --- | --- | --- | --- | --- | --- | --- | --- | --- | --- |
| 1/8 | TSP2001 | 204 | 102 | 182 | 84 | 20 | 60 | 76 | 22 | b-45 | 23 | 3.5 |
| 1/4 | TSP2003 | 204 | 102 | 182 | 84 | 20 | 60 | 76 | 22 | b-45 | 23 | 3.5 |
| 1/2 | TSP2005 | 204 | 102 | 182 | 84 | 20 | 60 | 76 | 22 | b-45 | 23 | 3.5 |
| 1 | TSP2010 | 249 | 127 | 236 | 112 | 29 | 71 | 95 | 25 | b-48 | 25 | 4.5 |
| 1 1/2 | TSP2015 | 300 | 153 | 280 | 131 | 35 | 85 | 112 | 32 | b-57 | 33 | 6.4 |
| 2 | TSP2020 | 300 | 153 | 280 | 131 | 35 | 85 | 112 | 32 | b-57 | 33 | 6.4 |
| 2 1/2 | TSP2025 | 320 | 153 | 324 | 152 | 36 | 100 | 134 | 36 | b-62 | 39 | 7.4 |
| 3 | TSP2030 | 320 | 153 | 324 | 152 | 36 | 100 | 134 | 36 | b-62 | 39 | 7.4 |
| 5 | TSP2050 | 297 | 178 | 400 | 178 | 46 | 118 | 144 | 54 | b-77 | 58 | 9 |
| 7 1/2 | TSP075 | 488 | 220 | 480 | 196 | 104 | 155 | 185 | 70 | b-90 | --- | 4 |
| 10 | TSP100 | 488 | 220 | 480 | 196 | 104 | 155 | 185 | 70 | b-90 | --- | 4 |
* All measurements in millimeters (mm)
Capacity (tonne)
Model
Standard Flange (mm)
Minimum Radius For Curve (mm)
Net Weight (lbs)
Standard
W20 Extension
W30 Extension
1/8
TSP2001
50-102
103-203
204-305
1100
10
1/4
TSP2003
50-102
103-203
204-305
1100
10
1/2
TSP2005
50-102
103-203
204-305
1100
10
1
TSP2010
58-127
128-203
204-305
1300
18
1 1/2
TSP2015
82-153
---
154-305
1500
31
2
TSP2020
82-153
---
154-305
1500
31
2 1/2
TSP2025
82-153
---
154-305
1700
51
3
TSP2030
82-153
---
154-305
1700
51
5
TSP2050
100-178
---
179-305
2300
116
7 1/2
TSP075
150-220
---
221-305
3000
220
10
TSP100
150-220
---
221-305
3000
220