TCW Wash Down Air Powered Hoist
Keep it clean.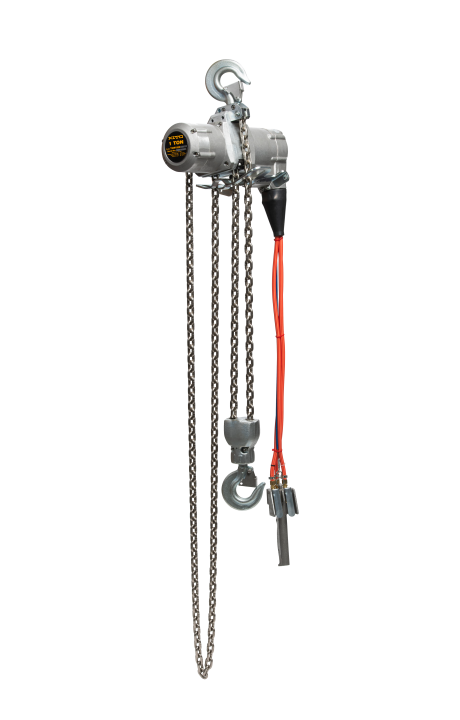 TCW Wash Down Air Powered Hoist
Keep it clean.
The TCW Series Wash Down Air hoist is specially designed for environments where the equipment must be washed off on a regular basis: humid, corrosive, and outdoor environments are no match for this hoist.
Lubrication Free Operation
Lubrication free operation makes this hoist suitable for specific applications where a clean environment is a necessity.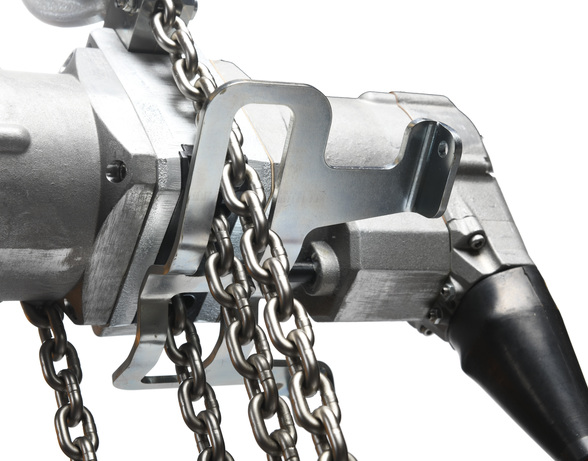 Unpainted Compact Aluminum Body
Extremely compact and lightweight cast aluminum body provides easy operation, transportation, and storage.
HIGH SPEEDS AND PRECISION CONTROL
Fast lifting and precise feathering control (spring-loaded multi-vane motor) for when production efficiency is critical. Adjustable speeds for your needs.
UNLIMITED DUTY CYCLE
No coffee break needed – the TCW has an unlimited duty cycle built for long and demanding work shifts. You can continually operate the hoist without worrying about damage from too many starts per hour, allowing you to get the work done on your schedule.
CAPACITY
STANDARDS
OPTIONS
Stainless steel load chain available
Chain container (canvas or steel)
BODY
Unpainted cast aluminum body is compact and lightweight
CONTROLS
Available with pendant or cord control
Very fine feathering movements, both up and down, even at low speeds
External speed adjustment screw
GEARS
3-step planetary gear box
CHAIN SYSTEM
Nickel plated, corrosion-resistant chain
Steel chain guide
HOOKS
Forged carbon steel opens gradually without fracturing under excessive load
Zinc-plated corrosion resistant
Bottom and top hooks swivel 360 degrees
Self-closing top and bottom hooks with heavy-duty hook latch
OPERATION
Pendant and cord control
Outstanding control for fine feathering movements using a spring-loaded multi-vane motor design
Spring-loaded vanes maintain constant seal against cylinder wall
Scotch-Brite muffler with threaded hole to pipe exhaust away from hoist
BRAKE
Fail-safe Self-Adjusting Disc Brake
MOTOR
Spring-loaded multi-vane
Air supply: 60-90 psi
5 micron air filter or finer
Speed control: full range variable speed control
OPERATING CONDITIONS
Choose product configuration below to view info:
Capacity
Model
Maximum Speed - 90 PSI (ft/min)
Load Chain Falls
Max Lift (ft)
Ship Weight (lbs)
Weight per 5 ft of Lift (lbs)
Up
Down
Chain
PB
w/Load
w/o Load
w/Load
w/o Load
1/2
TCW500C
43
79
79
53
1
131
---
44
3
1
TCW1000C2
21
39
39
26
2
66
---
58
6
Capacity
Model
Maximum Speed - 90 PSI (ft/min)
Load Chain Falls
Max Lift (ft)
Ship Weight (lbs)
Weight per 5 ft of Lift (lbs)
Up
Down
Chain
PB
w/Load
w/o Load
w/Load
w/o Load
1/2
TCW500P
43
79
79
53
1
131
30
46
3
1
TCW1000P2
21
39
39
26
2
66
30
60
6
Documents