FTSP Food Grade Manual Trolley
No room for doubt.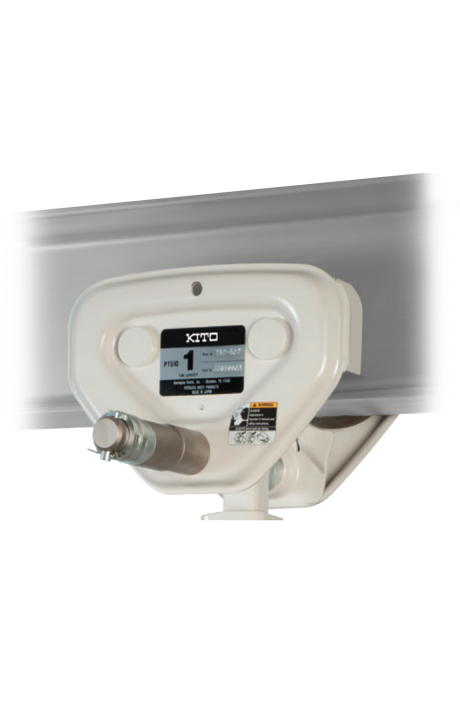 FTSP Food Grade Manual Trolley
No room for doubt.
Operational smoothness and safety best describes this food grade trolley, and the safety of your hoist heavily depends on the trolley. Heat-treated steel wheels, sealed bearings, and a low-turn radius are just some of the benefits of this trolley from Kito. Because of its chip-free epoxy paint, this model is perfect for food environments or corrosive processing environments.
Stamped Steel Side Plates
Engineered to be lighter and easier to install, the ½ to 3 tonne model TS trolleys are specifically designed to be robust and durable, without unnecessary weight and bulkiness.
Low Minimum Turn Radius
For curved beams where tight turns are required, Kito's FTSP trolleys allow a low minimum turn radius.
Fits Tapered or Flat-Flanged Beams
FTSP trolley wheels are adjustable to work with both tapered and flat-flanged beams, allowing you to use existing equipment without customization. Lifetime-lubricated ball bearings also increase reliability and provide you with smooth operation while traversing a load.
Nickel-Plated Lugs & Shaft
We understand that working in the food industry brings on the heat. Certain amounts of heat can cause abrasion to trolley parts, which is why Kito's FTSP was purposefully built with nickel-plated lugs and shaft - for a longer lasting, and smoother operation.
White Epoxy Paint
Specifically used for Kito's food grade trolley, this paint produces a hard, chemical and solvent resistant finish - ensuring resistance to acids/alkali and water that may be present in food environments. And no need to worry about paint contamination... this epoxy paint is chip-resistant and will stay put.
CAPACITY
STANDARDS
Operating Conditions: -20° to +40° C
Safety lugs supplied standard
FOOD GRADE FEATURES
White epoxy paint
Food Grade grease
Nickel-plated lugs and shaft
OPTIONS
Rubber bumpers
Variety of suspenders
BODY
A strong, lightweight, and compact design
Nickle-plated lugs and shaft for abrasion resistance
WHEELS
Contoured wheels that fit both tapered and flat-flange beams
COMPATIBILITY
Adjustable flange width to fit a wide variety of beam flange widths
BEARINGS
Maintenance-free low friction design
Lubricated for life
OPERATION
Push trolley: Suited to applications involving greater traversing distances
Choose product configuration below to view info:
| Capacity (tonne) | Model | a | b | c | d | e | f | g | h | i | j | k | m | Capacity (tonne) | Model |
| --- | --- | --- | --- | --- | --- | --- | --- | --- | --- | --- | --- | --- | --- | --- | --- |
| ½ | FTSP2005 | 182 | 102 - 305 | 84 | 68 | 60 | 46 | 404 (max) | B - 45 | 60 | 82 | B - 30 | 19 | ½ | FTSP2005 |
| 1 | FTSP2010 | 236 | 172 - 305 | 112 | 85 | 69 | 56 | 424 (max) | B - 48 | 71 | 106 | B - 30 | 28 | 1 | FTSP2010 |
| 2 | FTSP2020 | 280 | 154 - 305 | 131 | 104 | 76 | 69 | 450 (max) | B - 27 | 85 | 127 | B - 30 | 34 | 2 | FTSP2020 |
| | | | | | | | | | | | | | | | |
* All measurements in millimeters (mm)
Capacity (tonne)
Model
Minimum Radius for Curve (mm)
Standard Flange (mm)
Standard Drop (ft)
Ship Weight (lbs)
Standard
W20 Extension
W30 Extension
½
FTSP2005
1100
50 -102
103 - 203
204 - 305
---
10
1
FTSP2010
1300
58 - 127
128 - 203
204 - 305
---
18
2
FTSP2020
1500
82 - 153
---
154 - 305
---
31
Documents