MRQ Production Motorized Trolley
Smooth sailing from here on out.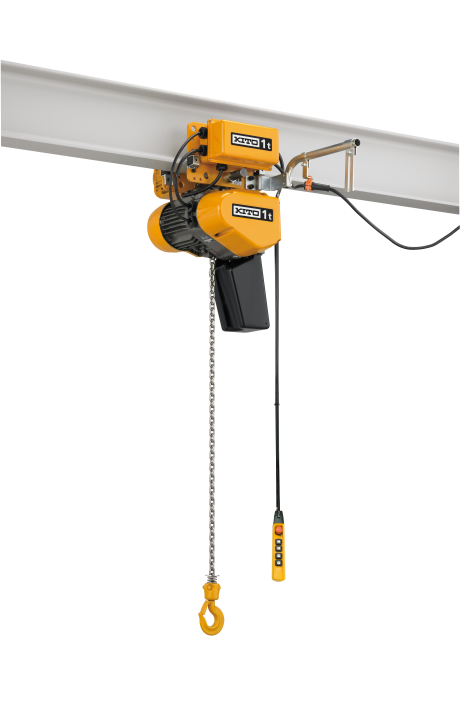 MRQ Production Motorized Trolley
Smooth sailing from here on out.
Built for the EQ & SEQ Series VFD Hoist, the MRQ Motorized Trolley will double your work efficiency. As with its hoist counterpart, the MRQ is made with a Variable Frequency Drive for the smooth starts and stops and precise load control you've come to know and love.
Available in both single and three phase power.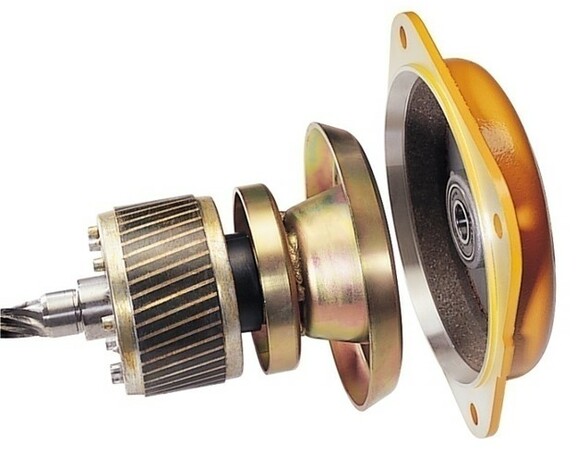 Pull Rotor Brake
With no brake coil to fail or discs to replace, the electromagnetic pull rotor brake on the MRQ is self-adjusting and virtually maintenance-free.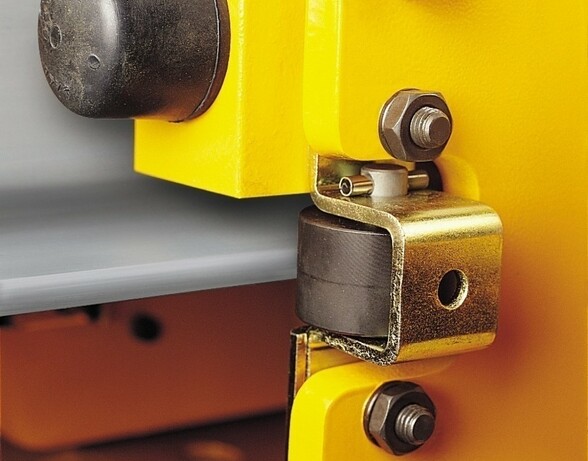 Side Guide Rollers
Designed for very smooth travel along the beam, the MRQ motorized trolley uses an innovative side-guide roller system that keeps the load controlled and on track while traversing.
Variable Frequency Drive (VFD)
Comes with a standard "under-the-cover" variable frequency drive – regardless of voltage. This device works by varying the power to the motor, which allows you to adjust both the high and low speeds. It also provides a soft-start/soft-stop operation to reduce shock loads, swing, and bounce – resulting in more precise load control and longevity of the hoist.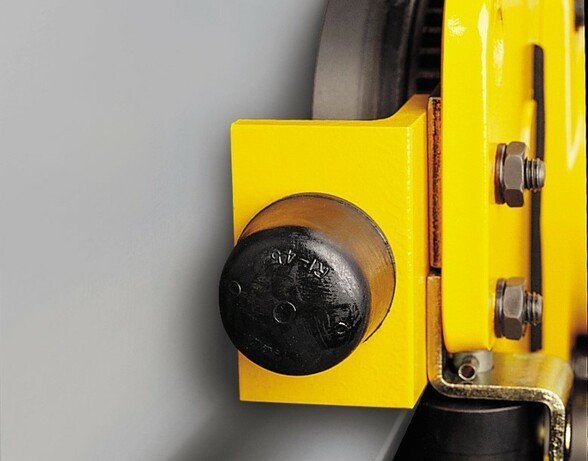 Rubber Bumpers & Drop Stops
Drop stops and rubber bumpers not only provide additional security for the operator, they also protect the equipment against collisions.
CAPACITY
STANDARDS
ASME H4
ASME B30.16
CSA C22.2 NO. 33, 14-13, 66.1-06
IP55 dust-tight and watertight environmental protection
BODY
Die-cast aluminum frame
Completely sealed body
Suitable for both indoor and outdoor applications
Lightweight
Low headroom profile
WHEELS
Contoured wheels fit both tapered and flat-flange beams.
VFD
Variable Frequency Drive
Adjustable speeds
Standard speed ratio 6:1 adjustable to 10:1
PUSH BUTTON STATION
Impact resistant plastic with molded strain relief to avoid damage from pulling on the push button cord
IP65 dust-tight and watertight environmental protection
Ergonomic design – easy to use one-handed operation
E-Stop
BEARINGS
High quality anti-friction ball and roller design
BRAKE
Durable, reliable, and maintenance free pull-rotor motor brake
MOTOR
Single & Three phase option
OPERATING CONDITIONS
-20˚ to +40˚C
Humidity of 85% or less
OVERTRAVEL PROTECTION
Rubber bumpers
Drop stops
Provides protection from collisions and is supplied standard
Choose product configuration below to view info:
| Capacity (tonne) | Model | C (in.) | D | b' | b | d | e | e' | g | i | j | k | n | r | t |
| --- | --- | --- | --- | --- | --- | --- | --- | --- | --- | --- | --- | --- | --- | --- | --- |
| 1/8 | SEQM001SD | 16.5 | 20.3 | 15.6 | 12.4 | 8.7 | 20.3 | 7.1 | 1.1 | 3.7 | 1.1 | 5.1 | 4.3 | 2.0 | 1.2 |
| 1/4 | SEQM003SD | 16.5 | 20.3 | 15.6 | 12.4 | 8.7 | 20.3 | 7.1 | 1.1 | 3.7 | 1.1 | 5.1 | 4.3 | 2.0 | 1.2 |
| 1/2 | SEQM005SD | 17.3 | 20.3 | 15.6 | 12.4 | 8.7 | 20.3 | 7.1 | 1.1 | 3.7 | 1.1 | 5.1 | 4.3 | 2.0 | 1.2 |
| 1 | SEQM010SD | 19.3 | 22.2 | 15.6 | 12.4 | 8.7 | 20.3 | 7.1 | 1.2 | 3.7 | 0.9 | 5.1 | 4.3 | 2.0 | 1.2 |
Capacity (tonnes)
Model
Speed (ft/min)
Flange Width (in)
Minimum Radius for Curve (mm)
Motor H.P.
Ship Weight (lbs)
Weight Per Additional 5ft of Lift (lbs)
Hoist Lifting
Trolley Traversing
Standard
Extension Shaft
Hoist
Trolley
1/8
SEQM001SD
56/9.3
80/13
2.28 - 6.02
6.02 - 12
800
0.67
0.54
139
2.4
1/4
SEQM003SD
33/5.5
80/13
2.28 - 6.03
6.03 - 12
800
0.67
0.54
141
2.4
1/2
SEQM005SD
25/4.2
80/13
2.28 - 6.04
6.04 - 12
800
1
0.54
146
2.4
1
SEQM010SD
17/3.9
80/13
2.28 - 6.05
6.05 - 12
800
1.3
0.54
165
3.85
| Capacity (tonne) | Model | C (in.) | D | b' | b | d | e | e' | g | i | j | k | m | n | r | t |
| --- | --- | --- | --- | --- | --- | --- | --- | --- | --- | --- | --- | --- | --- | --- | --- | --- |
| 1/8 | EQM001SD | 16.5 | 20.3 | 15.6 | 12.4 | 8.7 | 20.3 | 7.1 | 1.1 | 3.7 | 1.1 | 5.1 | 8.1 | 4.3 | 2.0 | 1.22 |
| 1/4 | EQM003SD | 16.5 | 20.3 | 15.6 | 12.4 | 8.7 | 20.3 | 7.1 | 1.1 | 3.7 | 1.1 | 5.1 | 8.1 | 4.3 | 2.0 | 1.22 |
| 1/2 | EQM005SD | 17.3 | 20.3 | 15.6 | 12.4 | 8.7 | 20.3 | 7.1 | 1.1 | 3.7 | 1.1 | 5.1 | 8.1 | 4.3 | 2.0 | 1.22 |
| 1 | EQM010SD | 19.3 | 22.2 | 15.6 | 12.4 | 8.7 | 20.3 | 7.1 | 1.2 | 3.7 | 1.2 | 5.1 | 8.1 | 4.3 | 2.0 | 1.22 |
Capacity (tonnes)
Model
Travel Speed (ft/min)
Flange Width (in)
Minimum Radius for Curve (mm)
Motor H.P.
Ship Weight (lbs)
Weight Per Additional 5ft of Lift (lbs)
Hoist
Trolley
Standard
Extension Shaft
Hoist
Trolley
1/8
EQM001SD
59/6
80/13
2.28 - 6.02
6.02 - 12
800
0.67
0.54
139
2.4
1/4
EQM003SD
33/6
80/13
2.28 - 6.03
6.03 - 12
800
0.67
0.54
141
2.4
1/2
EQM005SD
25/4
80/13
2.28 - 6.04
6.04 - 12
800
1
0.54
146
2.4
1
EQM010SD
23/4
80/13
2.28 - 6.05
6.05 - 12
800
1.3
0.54
165
3.85