VLCB Spark Resistant Manual Chain Hoist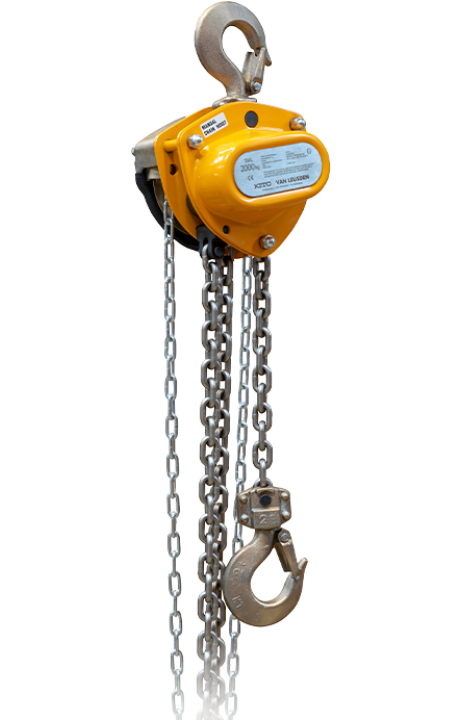 VLCB Spark Resistant Manual Chain Hoist
Certified to ATEX standards to ensure safer lifting in dust-laden or explosive gas atmospheres.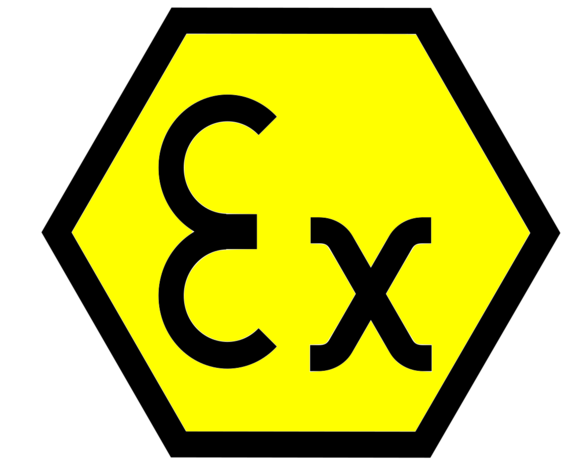 ATEX Rated
The Spark Resistant Manual Chain Hoist conforms to the European ATEX directive 2014/34/EU for certified use in potentially explosive atmospheres. ATEX is a multi-level technical standard mandatory in the European Economic Area (EEA) for using equipment in dust-laden or explosive environments.
Standard Slip Clutch
The VLCB's slip clutch protects the hoist from damage and helps the operator maintain balance in the case of an excessive overload. This feature keeps the hoist working safely in position on the job site, reducing costly downtime and repairs, and maximizing the safety of the operator and co-workers in the immediate area.
Bronze Coated Top & Bottom Hooks
Stay safe from top to bottom with load hooks designed to resist sparks at the point of contact.
High Impact Steel Housing
The VLCB has a rugged body and hand wheel cover made of heavy gauge high-impact steel, giving much needed protection in extreme conditions and demanding applications to see every job through to the end.
CAPACITY
1/2 to 30 Metric Tons (1/2 ~ 3t, larger sizes available up to 30 Metric Tons)
STANDARDS
ASME B30.16 Safety Standard
ASME HST-2 Performance Standard
EC machinery directive 2006/42/EC ATEX Directive 2014/34/EU
EN13157
Equipment classification Gas ATEX Explosion Protected II 2G EX h IIB T3 Gb (zone 1)
Equipment classification Dust ATEX Explosion Protected II 2D EX h IIIB T200°C Db (zone 21)
OPTIONS
Available in equipment class Gas ATEX Explosion Protected II 2G EX h IIC T3 Gb (zone 1)
Available in equipment class Dust ATEX Explosion Protected II 2D EX h IIIC T135°C Db (zone 21)
Special surface protection acc. to ISO 12944
Canvas, steel or stainless steel container
3.1 load test certificate
SS316 load chain
Stainless steel nameplate with tag number
Custom lift lengths to suit your requirements
Combination with HD3C Explosion protected trolleys
BODY
Heavy-duty, high-impact steel construction (similar weight to aluminum)
Rugged gear case and hand wheel cover
Compact design for low headroom and portability
Open load sheave for easy inspection and cleaning without dismantling the unit
Surface treatment power coating, colour Munsell 7.2YR6.5/14.5
HAND CHAIN
LOAD CHAIN
GEARS
Double reduction gearing
Induction heat-treated and case-hardened
Enclosed to protect from dust and water
HOOKS
Bronze coated top and bottom hooks
Self-closing top and bottom hooks with heavy-duty hook latch
OPERATION
Hand chain operated; low pulling force
Reduced operator fatigue through efficient drive train
BEARINGS
Maintenance-free sealed bearings increase reliability and reduce pull force required to lift loads
BRAKE
Double pawl and double pawl springs for extremely reliable operation and instant brake activation
Enclosed to protect from dust, rain, and dirt
OPERATING CONDITIONS
Recommended for -40˚ to +40˚ C
STANDARD OVERLOAD PROTECTION
Slip clutch device prevents the hoist from lifting damaging loads beyond rated capacity
Choose product configuration below to view info:
| Capacity (tonne) | Model | C | a | b | e | f | g | s | t | u | v | w | x |
| --- | --- | --- | --- | --- | --- | --- | --- | --- | --- | --- | --- | --- | --- |
| ½ | VLCB005 | 285 | 158 | 161 | 69 | 99 | 27 | 35.5 | 12.1 | 17 | 77 | 35 | 89 |
| 1 | VLCB010 | 295 | 162 | 161 | 71 | 99 | 29 | 42.5 | 16 | 21.8 | 93 | 41 | 101 |
| 1½ | VLCB015 | 350 | 171 | 182 | 78 | 112 | 34 | 47.5 | 19.5 | 26.5 | 106 | 47 | 119 |
| 2 | VLCB020 | 375 | 182 | 202 | 87 | 125 | 36 | 50 | 21.8 | 30 | 116 | 49 | 124 |
| 2½ | VLCB025 | 420 | 192 | 233 | 91 | 143 | 40 | 53 | 24.3 | 33.5 | 126 | 53 | 136 |
| 3 | VLCB030 | 510 | 171 | 235 | 78 | 162 | 42.5 | 56 | 27.2 | 37.5 | 138 | 57 | 148 |
| | | | | | | | | | | | | | |
* All measurements in millimeters (mm)
Capacity (tonne)
Model
Standard Lift (ft)
Hand Pull to Lift Full Load (kg)
Headroom (in)
Load Chain Falls
Hand Chain Falls
Hook Mount Only
½
VLCB005
8
24
11.22
1
2
1
VLCB010
8
29
11.6
1
2
1½
VLCB015
8
35
13.77
1
2
2
VLCB020
10
36
14.76
1
2
2½
VLCB025
10
33
16.5
1
2
3
VLCB030
10
36
20
2
2